On February 14th, we celebrate Valentine's Day to honor Saint Valentine; or the Feast of Saint Valentine. Valentine's Day is a celebration of romantic love in many regions around the world.
Sip some champagne and share some chocolates with your favorite sweetie. Book a romantic dinner filled with Love Potions and Aphrodisiacs.
The Saint that we celebrate on Valentine's Day is known officially as St. Valentine of Rome; to differentiate him from so many other Valentines on the list. "Valentinus"—from the Latin word for worthy, strong or powerful—was a popular moniker between the second and eighth centuries A.D., so several martyrs over the centuries have carried this name.
You can find Valentine's skull in Rome.
The flower-adorned skull of St. Valentine is on display in the Basilica of Santa Maria in Cosmedin, Rome (pictured above). In the early 1800s, the excavation of a catacomb near Rome yielded skeletal remains and other relics now associated with St. Valentine.
Saint Valentine's Day is the most popular day for couples to get engaged.
Saint Valentine of Rome was a priest who was imprisoned for performing weddings for soldiers, who were forbidden to marry and for ministering to Christians who were persecuted under the Roman Empire. He was martyred in 269 and was added to the calendar of saints by Pope Galesius in 496 and was buried on the Via Flaminia.
The relics of Saint Valentine were kept in the Church and Catacombs of San Valentino in Rome, which "remained an important pilgrim site throughout the Middle Ages until the relics of St. Valentine were transferred to the church of Santa Prassededuring the pontificate of Nicholas IV". Today, the flower-crowned skull of Saint Valentine is exhibited in the Basilica of Santa Maria in Cosmedin, Rome.
Cupid is the god of desire, erotic love, attraction and affection.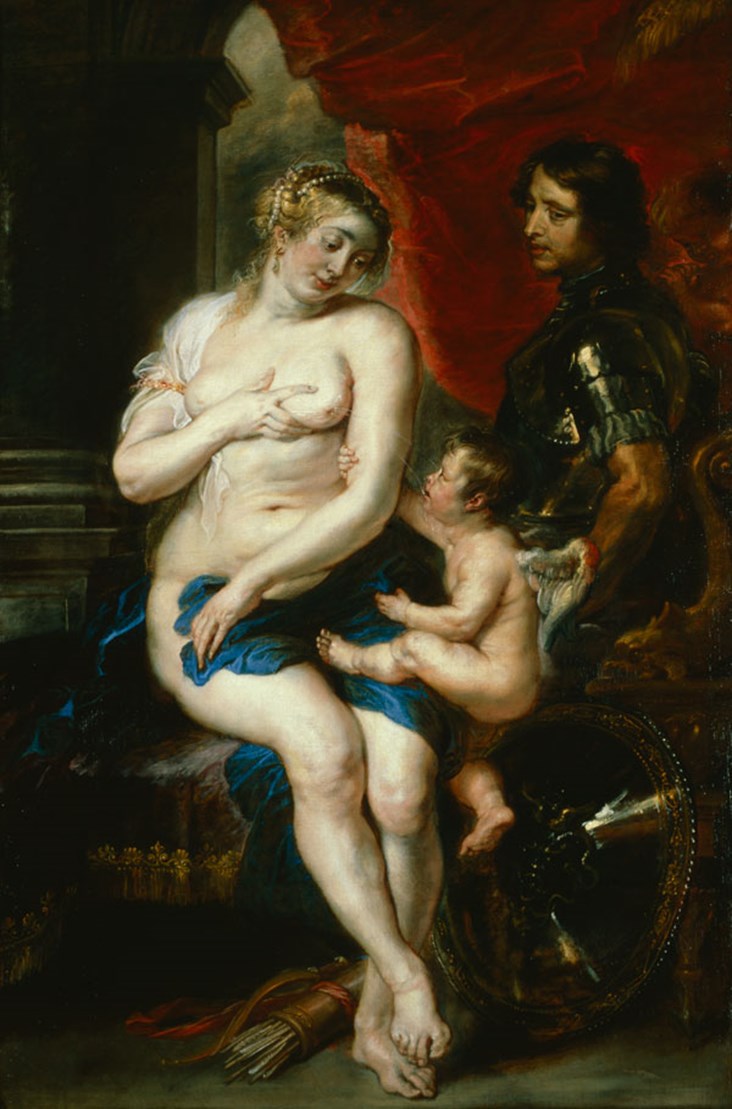 Sir Peter Paul Rubens painting of Venus, Mars and Cupid from the 1600s
He is often portrayed as the son of the love goddess Venus and the war god Mars. He is also known in Latin as Amor ("Love").
Cupid is winged, allegedly because lovers are flighty and likely to change their minds, and boyish because love is irrational. His symbols are the arrow and torch, "because love wounds and inflames the heart." The image above is a blindfolded, armed Cupid (1452/66) by Piero della Francesca.
Cupid sculpture by Bertel Thorvaldsen
Love looks not with the eyes, but with the mind
And therefore is winged Cupid painted blind.
Nor hath love's mind of any judgement taste;
Wings and no eyes figure unheedy haste.
And therefore is love said to be a child
Because in choice he is so oft beguiled
Shakespeare in A Midsummer Night's Dream (1590s)
My favorite cupid is Caravaggio's Victorious Love, also known as Love Conquers All (Amor Vincit Omnia), in which a brazenly naked Cupid tramples on emblems of culture and erudition representing music, architecture, warfare, and scholarship.
The motto comes from the Augustan poet Vergil, writing in the late 1st century BC.
Omnia vincit Amor: et nos cedamus Amori.
Love conquers all, and so let us surrender ourselves to Love.